hannah Peel & Recovery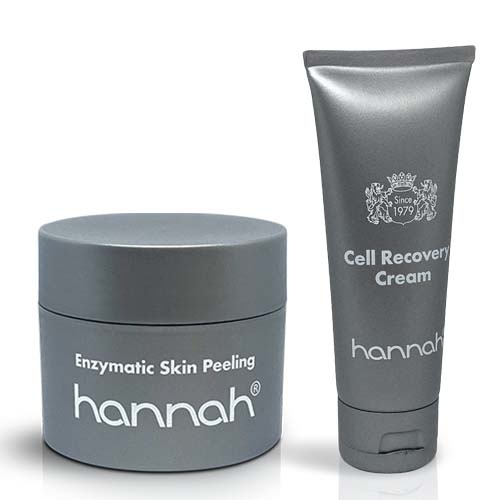 hannah Peel & Recovery Set
This Peel & Recovery Set gives you everything you need to peel & improve your skin. This set includes:
Enzymatic skin Peeling 65ml
Cell Recovery Cream 65ml
Enzymatic Skin Peeling
Removes the dead skin cells from the stratum corneum, leaving your skin instantly soft, smooth, and refreshed. As a result, the pores are more delicate, and the skin texture is smoother. Use this peeling 2 to 3 times a week for optimal effect.
Cell Recovery Cream
Provides significant improvement of the fat and moisture balance in the skin. The betaine creates a film of fat on the skin, reducing moisture loss, and the oils ensure natural penetration of the skin's greases. This brings the natural ratio of moisture to fat in the skin back into balance.
Especially mature, dry, and dehydrated skin regains a vital basis with this rich, ointment-like cream, which significantly slows down skin aging. Cell Recovery Cream is also an ideal solution for eczema skin.