Schrijf je in voor onze nieuwsbrief
Does your skin feel dry? Then care for your body with the nourishing hannah Body Oil.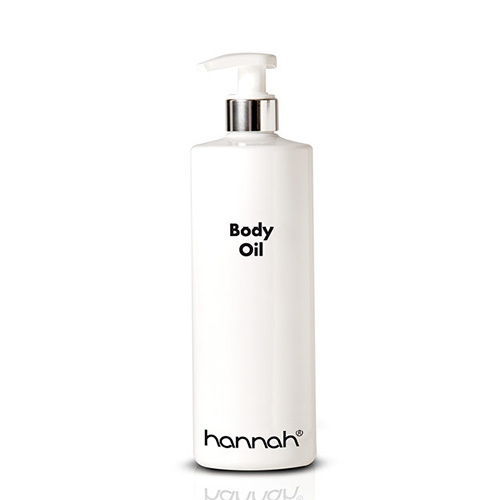 hannah Body Oil 500ml
hannah Body Oil Body Oil is an intensive nourishing oil; macadamia oil is the main base, combined with argan oil. It gives a soothing, relaxing effect, provides preventive protection against skin aging, and is very suitable for (very) dry skin. Its velvety texture leaves skin healthy and shiny for the day and, above all, feels incredibly soft. Benefits of Body Oil: Gives a relaxing effect Offers protection against skin aging Suitable for (very) dry skin Contains a velvety texture This is how you use Body Oil: After showering, hannah's Body Oil Apply all over the body and firmly massaged.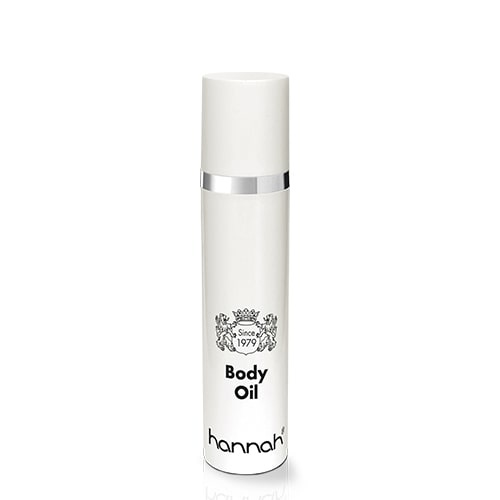 hannah Body Oil 45ml
hannah Body Oil hannah Body Oil is an intensively nourishing oil with macadamia oil as the main base, combined with argan oil. It gives a pleasant, relaxing effect, offers preventive protection against skin aging, and is very suitable for (very) dry skin. The velvety texture makes the skin appear healthy and shiny and, above all, feels super soft. The benefits of Body Oil: Intensively nourishing and moisturizing calming Soothing Protective Antioxidant effect To be used in combination with body massage How to use Body Oil: The Body Oil is highly suitable for use with (extremely) dry skin and relieving the body's eczema. Excellent to use during a body massage Can be applied to body skin twice daily for intense nourishment effect Excellent to combine with Body Cream
hannah body oil
It can be challenging to keep your skin well-hydrated. Cold air and the lack of moisture can cause your skin to become somewhat dry. In addition, exposure to the sun increases the need for hydration. Body oil can be the solution. Regardless of the time of year, the intensively nourishing hannah body oil protects you preventively against dry skin.
Body oil is a perfect way to hydrate your skin. Body oil with high-quality ingredients visibly improves the quality of your skin because the ingredients quickly and deeply penetrate the skin and keep your body hydrated all day long.
High-quality Argan oil in hannah body oil
Good body oil has a protective function and improves cell cohesion. In addition, the skin's ability to retain moisture is compromised over time, but a good body oil has the task of helping to keep it.
One of the main ingredients of the hannah body oil is Argan oil. This is a precious and rare oil that is known to prevent skin ailments and slow down the process of wrinkle formation. In addition, the velvety texture used in the body oil will make your skin look healthy and shiny and, above all, feel caressingly soft.
Preventing signs of aging with hannah body oil
Another type of oil with which the hannah body oil is enriched is macadamia oil. One of the antioxidants in macadamia oil is the somewhat rare squalene. This helps reduce oxidative stress on fats of the body and skin. This can prevent wrinkles, age spots, and other signs of aging.
Both ingredients of hannah's unique body oil ensure a high absorption rate: ideal for a relaxing massage. In addition, the skin's natural protection is also optimized with body oil.
Proven benefits of body oil ingredients
The hannah body oil is enriched with other essential ingredients, which have proven beneficial to skincare. These include essential fatty acids and Vitamin E. A significant advantage of this vitamin for the skin is that it helps heal. In addition, vitamin E is absorbed by the skin's epidermis and can be used for sun protection. Together with the oils and other highly effective ingredients, vitamin E makes hannah body oil a perfect addition to your skincare with a soothing effect that helps prevent premature degeneration of the skin.