Schrijf je in voor onze nieuwsbrief
Nourished lips with hannah lip balm
Supple and cared for lips with the hannah lip balm. The hannah lip balm contains SPF15 for optimal protection.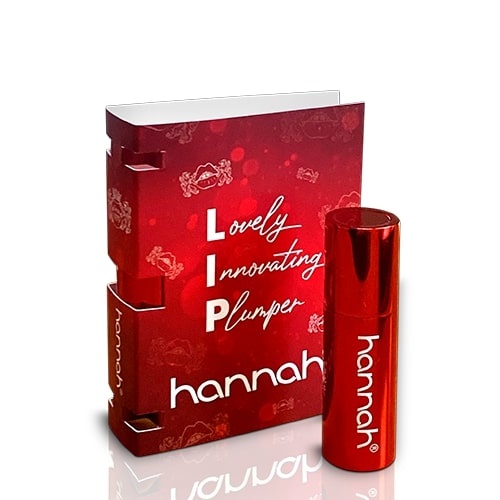 hannah Lip Touch 4,8gr
hannah Lip Touch 4.8 gr Lip Touch has been specially developed to counteract the loss of volume of the lips. In addition, it effectively tackles dry and chapped lips. In addition to the soothing and smoothing effect, the combination of carefully coordinated ingredients stimulates the production of collagen and restores the volume of the lips. The added and proven effective Akosky KISS improves, nourishes and protects the skin of the lips in an intensively firming way. The silky balm texture provides noticeably more suppleness, moisture recovery and compactness of the lip skin. This results in fuller, beautifully shiny and touchable lips The benefits of hannah Lip Touch: Stimulates collagen production Evens out the skin texture Intensively moisturizing and nourishing Immediately a pleasant skin feeling Protective against moisture loss Volume up Firming How to use hannah Lip Touch: Use the Lip Touch as a daily product, applying several times a day if necessary. Please note, do not use it if you have a Macadamia nut allergy. View the product leaflet below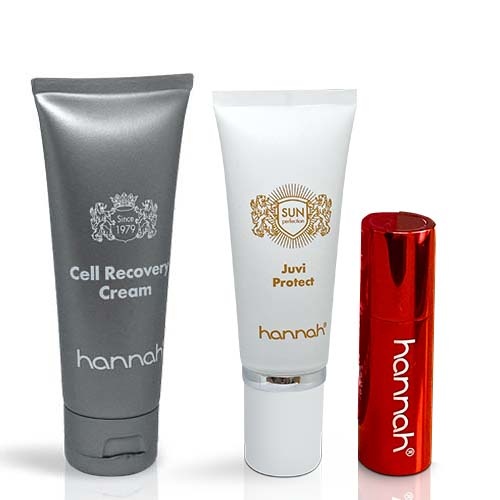 hannah Wintercare Set
Winter Care Set This hannah Wintercare set is the ultimate skin care set for the cold winter days. If you are going on a skiing holiday, this Wintercare set is exactly what your skin needs. The hannah Wintercare Set contains the following products: Cell Recovery Cream 65ml Juvi Protect (SPF30) 60ml Lip Touch
€117.90 from

€131.00

(10% saved)
hannah lip balm
A smile can light up a room. A bright smile can put you in a better mood and benefit your health. Therefore, it is essential to always care for your lips with a good lip balm and include them in your daily skincare routine. We'll make it a little easier for you: the hannah Lip Touch is a unique, plant-based lip balm that gives you full, well-groomed lips.
Smiling is always a good idea. Because laughter is healthy. Research has shown that laughter and positivity can hugely affect your health and well-being. When you laugh or smile, many changes occur in your body that can benefit your physical health. First, endorphins are released. Endorphins are chemicals produced by our brains that make us feel happy. The more these chemicals are removed, the more comfortable and relaxed we feel.
Skin heals faster with lip balm.
Your skin heals better when it is kept moisturized. Thus, hannah lip balm can help prevent cracks on chapped lips, infections, and further irritation.
It sounds too good to be accurate, but you can safely subtract years from your actual age with moisturized lips! Today's hannah lip balm features antioxidants, elastin, and collagen stimulators to prevent aging. The hannah lip balm stimulates the contraction of collagen fibers, protects fibroblasts from free radicals, and protects elastin.
Avoid chapped lips with lip balm.
Anyone who has ever walked around with chapped lips knows how painful it can be. In winter, however, this thin layer can easily crack. In addition, the combination with the cold, windy weather often leads to dry, chapped lips. So those who want to do themselves a favor should wear hannah lip balm!
More supple lips with lip balm
Thin and dry lips can be given a complete and hydrated look with a simple stroke of your lip balm! The hydrating effect of hannah's lip balm is a great way to ensure that you maintain a youthful, supple look.
hannah lip balm contains SPF protection
Almost every lip balm today contains SPF protection. This helps protect your lips from the sun's harmful rays and prevents chapped and dry lips. The hannah lip balm contains SPF15 protection, so that's always a good thing.