Schrijf je in voor onze nieuwsbrief
Discover the hannah facial serums that are going to improve your skin.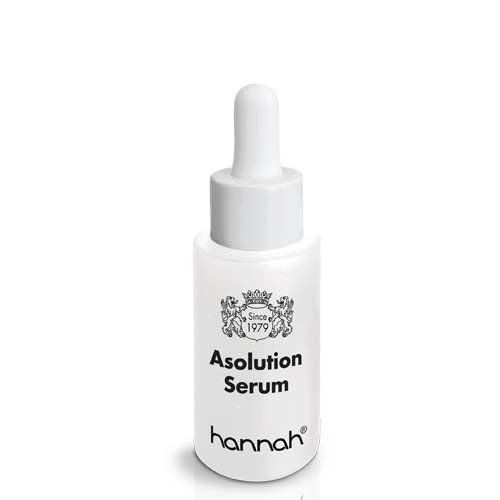 hannah Asolution Serum 30ml
hannah Asolution Serum This serum is a perfect and mild alternative to Retinol (Vitamin A) and improves the skin in several ways. Retinol can irritate and redden the skin, and the use of Retinol should be done very carefully. However, this serum is safe for the skin but still has the same benefits. With the Asolution Serum, you have a safe and effective alternative to Retinol. The Asolution serum has been specially developed to make the skin firmer and more even. Therefore, this product ensures skin aging has less chance and contributes to an even complexion, extra vitality, and visible skin rejuvenation. In addition, impure skin benefits significantly from this product: it tackles acne and large pores and ensures that the skin looks fabulous, radiant, and fresh again. The benefits of Asolution Serum: Reduces wrinkle formation and fine lines Stimulates cell renewal Provides a robust recovery for (UV) damaged skin Improves the natural skin barrier and skin resistance Provides a healthier, more even complexion Has a brightening effect on, among other things, pigment spots and other skin discolorations Supports the treatment of acne and blemishes How to use Asolution Serum: Apply the Asolution Serum to cleansed skin. The Asolution Serum is a vibrant, economical product because of its concentrated composition. A few drops are already sufficient. Spread the serum over the face, neck and décolleté. Massage t, he serum until the skin completely absorbs it. The Asolution Serum works perfectly with the hannah Brilliant Touch: a face cream that, like the serum, ensures a radiant, beautiful, and even complexion. These two products reinforce each other and ensure optimal results. Of course, you can also apply your typical day or night care after the serum. So as you know, this serum is not suitable for use around the eyes. So, are you, in addition to the Asolution Serum, looking for good care for the skin around your eyes? Then take a look at hannah Juvi-Lite. Active substances The Hannah Asolution Serum contains the ingredient Granactive Retinoid. In combination with suitable actives, this active ingredient works just as well as vitamin A acid, which is usually only available with a prescription. However, the chance of skin irritation is much smaller with Granactive Retinoid. This ingredient counteracts fine lines and wrinkles, improves skin elasticity, and leaves skin feeling firm yet soft. It also enhances the structure of the skin and ensures finer pores. In addition, pigmentations and skin discolorations are tackled by Granactive Retinoid, which provides precise, even, and healthy skin. In addition, the serum contains Ronacare AP. This ingredient protects the skin from UV radiation and other harmful external influences for a long time. This increases the skin's resistance and strengthens the skin's natural barrier. We would also like to tell you more about the Ronacare Serene Shield. This ingredient has won international awards and is a star in reducing inflammation in the skin, among other things. It also balances the skin and ensures healthy skin flora. It regulates an excess of sebum and ensures that sebum production decreases. Ronacare Serene Shield tackles acne at the base. As a result, the skin becomes more even, pores become less visible, and the skin looks fresh and radiant. In addition, the Asolution Serum contains several mild excipients, (vegetable) oils, and nourishing ingredients. Skin type: The Asolution Serum is suitable for sun-damaged skin with unwanted pigmentation, aging skin, and acne and impurities. This serum also helps restore the skin's volume and is, therefore, very suitable for mature skin that suffers from volume loss.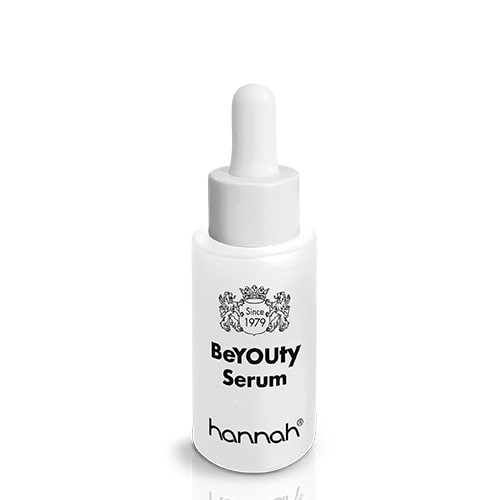 hannah BeYOUty Serum 30ml
hannah BeYOUty Serum This highly concentrated serum has been specially developed for every conceivable skin tone to improve impurities, skin irritations after wearing mouth masks, and even sensitive skin types. The composition ensures that the skin immediately smoothes, soothes, and repairs where necessary. The unique mix of ingredients ensures that you can use this serum for impure skin, (blotchy) redness, slow skin recovery, imperfections, and irritations. The combination of ingredients such as Ferulic Acid, and Niacinamide makes this serum widely applicable and suitable for every skin tone. Impurities and also consequential damage after wearing mouth masks will visibly diminish. The skin is powerfully restored and has a positive effect on the slowing down of the skin aging process. Thanks to the powerful antioxidant effect, the skin's resistance to harmful external influences is improved, and the natural skin barrier is strengthened. In addition, this serum has a regulating effect on pigmentation spots and pigment disturbances caused by trauma. It reduces already formed hyperpigmentations and skin discolorations and also prevents their occurrence. This true multitasker takes skin improvement to a whole new level and tackles annoying skin problems at the core. The benefits of the BeYOUty serum: Smoothes the skin image optimally Reduces impurities Reduces redness Reduces skin irritation after wearing face masks Promotes natural skin regeneration Strengthens resilience Soothes the skin Reduces moisture loss Suitable for every skin tone Even suitable for sensitive skin This is how you use the BeYOUty serum: The BeYOUty Serum is the ultimate synergistic addition to the Prepare Potion, as both products provide pure skin with radiance. The serum is exceptionally rich and economical in use because of its concentrated composition. After carefully cleansing the skin and using the Prepare Potion, apply a few drops of serum to the face, neck, and décolleté. It can be used in the morning and evening and then apply a restorative cream.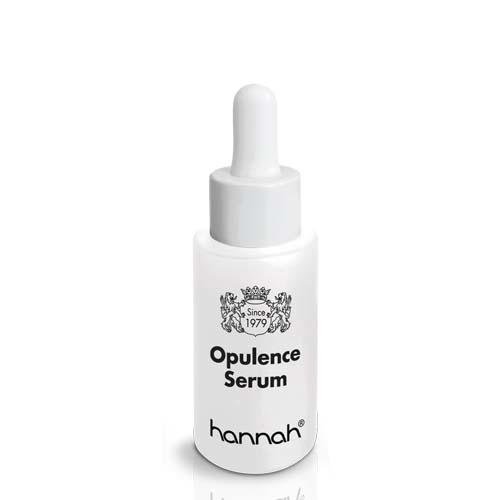 hannah Opulence Serum 30ml
Opulence Serum Opulence Serum is a serum that improves the skin in terms of evenness, brightness, and firmness, so camouflage is no longer necessary. In addition, the opulence serum provides extra vitality, an even complexion, and visible regeneration in areas where skin aging manifests itself first, such as around the eyes, neck, décolleté, and hands. The Opulence serum contains, among other things, the ingredient Wonderlight ™. This ingredient ensures that excessive pigmentation and skin discoloration are tackled deeply. In addition, the serum contains no less than 20% oil-soluble and, therefore, a unique, stable form of vitamin C, which provides a powerful boost in the connective tissue. In addition, it positively affects the complexion and offers radiant, calm skin. The added Vitamin E has a stimulating effect on blood circulation and skin-repairing capacity. Benefits of Opulence Serum: Improves evenness, clarity, and firmness of the skin Tackles pigmentation and skin discoloration deep in the core Provides a boost in the connective tissue Provides a radiant, smooth, and even appearance This is how you use Opulence Serum: Cleanse the skin with the hannah Cleansing Oil or the hannah Cleansing Milk Then apply about 3 to 5 drops of the hannah Opulence Serum to the face, neck and décolleté Apply a skin-tailored cream such as the hannah 24-hour Skin Balancing or hannah Personal Choice Finally, apply the hannah Touch of Silk. Like the Opulence Serum, this product contains vitamin C, making it a perfect duo. This is a therapeutic product, which requires an explanation from the skin coach.
hannah facial serum
If you are looking for a skin care product that can bring powerful ingredients directly into your skin, then a facial serum is the right. A facial serum is composed of smaller molecules, which can penetrate deep into the skin and deliver a high concentration of active ingredients. For example, the 'Opulence' serum is a great tool that targets specific skin care problems such as wrinkles. Bye-bye signs of aging!
Vitamin C's most powerful ingredient, hannah serum
Certain powerful ingredients often found in a facial serum can become unstable once they come into contact with air. Ascorbic acid (vitamin C), for example, can oxidize, and its efficacy diminishes over time. But thanks to science, the ingredients in a facial serum today have been modified to last longer for the benefit of your skin. The hannah serum contains 20% oil-soluble and stable vitamin C, which makes this facial serum unique. This potent ingredient has a positive effect on the complexion. The hannah serum also ensures a flawless, even, and radiant appearance.
The hannah serum helps with acne.
The Vitamin C in the facial serumworks positively on your complexion and radiance and is also very beneficial if you have acne-prone skin. This is because Vitamin C is responsible for increased collagen production. Moreover, vitamin C reduces inflammation and improves the skin's repair process. In addition to vitamin C, the hannah serum also contains vitamin E, which in combination with vitamin C, ensures that pigmentation spots are lightened. This essential vitamin limitsthe sun's damage to your cells, makes your skin burn less quickly, and strengthens your skin's barrier function. Vitamin E also allows other active ingredients in the facial serum to penetrate deeper into the skin to do their job better.
Wonderlight™ in the hannah serum
Another powerful and advanced ingredient of the hannah serum is Wonderlight ™, which tackles skin discoloration and excessive pigmentation deep down. Those suffering from (benign) pigmentation disorders, some of which are stimulated by stress and aging (freckles, lentigines, pigment or liver spots, and melasma), may benefit from using the hannah serum. Wonderlight™ has been proven to reduce pigmentation disorders and even out skin pigmentation to make it less visible.