hannah Peel & Activate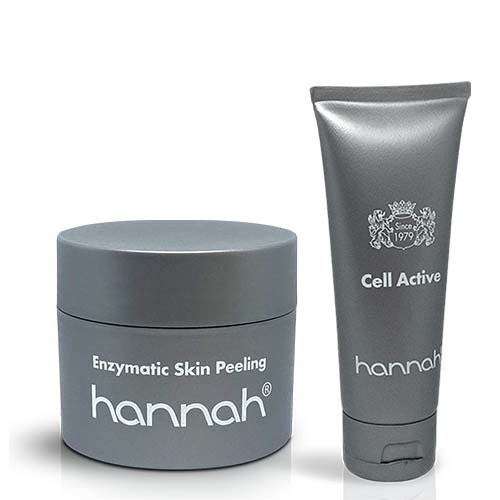 hannah Peel & Activate Set
With this Peel & Activate set, you have everything you need to cleanse your skin regularly and activate circulation thoroughly. This set includes:
Enzymatic Skin Peeling 65ml
Cell Active 65ml
Enzymatic Skin Peeling
The Enzymatic Skin Peeling removes dead skin cells from the stratum corneum, leaving your skin feeling soft, smooth, and refreshed. As a result, the pores are finer, and the skin structure smoother. You can use this peeling 2 to 3 times a week for optimal effect.
Cell Active
Cell Active causes the strong blood circulation in your skin and gives an intensive oxygen pulse. After a few minutes, a soothing warm glow emerges, promoting oxygenation and active substances transport. This leads to skin improvement of any reduced blood flow. The latter is significant for healthy and especially radiant skin.
Use Cell Active every night for the first two weeks and then, like the peel, move to 2 to 3 times a week. Cell Activate can be left on the skin and does not need to be removed like the Enzymatic Skin Peeling. So you can use it preferably after the peeling.
Product features
Brand:

hannah

Care objective:

Improve blood circulation

, Purifies the skin

, Radiant skin

, Smooth skin

Gender:

Women

, Men

Packaging:

Duo

Suitable for:

Face