hannah Cleansing Duo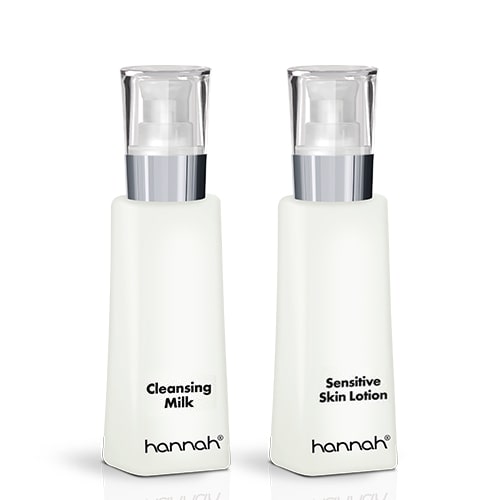 hannah Cleansing Duo
This set contains hannah Cleansing Milk 200ml & hannah Sensitive Skin Lotion 200ml.
The hannah Cleansing Milk
is suitable for the most sensitive skin and cleanses the skin extremely gently but intensively. This cleanser is pH skin neutral so that the natural protective layer of the skin is not disturbed and does not unnecessarily dry out. hannah Cleansing Milk has a hydrophilic composition, making it easy to mix with water, and you can quickly rinse it off. You can also remove the cleanser with a warm microwave compress which keeps the horny layer of your skin intact and does not clog pores. The result is silky smooth and perfectly cleansed skin that removes makeup, excess sebum, and other impurities. After use, you can use the hannah Sensitive Skin Lotion to soothe and refresh your skin.
How to use hannah Cleansing Milk
Take 1 to 2 pumps of hannah Cleansing Milk.
Massage and mix with lukewarm water.
Remove the Cleansing Milk, preferably with a moist and warm microwave compress.
After using the Cleansing Milk, it is necessary to use Sensitive Skin Lotion or Active Lotion.
For waterproof (eye) makeup, Cleansing Oil is preferably used.
hannah Sensitive Skin Lotion
is a refreshing, ultra-soft alcohol-free lotion that can be used after cleansing with Cleansing Milk. This lotion soothes the skin palpably, and the structure of your pores is visibly refined. In addition, this lotion increases the resistance of your skin's natural protective layer. Apply the Sensitive Skin Lotion to a cotton pad to cleanse the entire skin. You can also apply the Sensitive Skin Lotion to your hands and massage your face with it; this has a very soothing effect, do not rinse with water.
How to use the Sensitive Skin Lotion
Apply the Sensitive Skin Lotion to a dry cotton pad.
Cleanse the entire skin by wiping from the center to the outside of the face.
This lotion is also very soothing when applied and massaged with your hands.
Sensitive Skin Lotion is also great for making a soothing eye compress for swollen, burning, or tired eyes or for treating puffiness and under-eye circles.