hannah Cream & Peel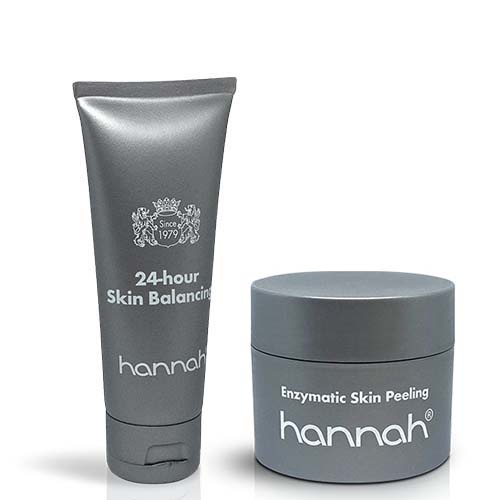 hannah Cream & Peel
This combination of 24-hour Skin Balancing with Enzymatic Skin Peeling is perfect for peeling and taking care of your skin. Using the Enzymatic Skin Peeling before the 24-hour Skin Balancing will make your skin much more receptive to the 24-hour care cream. As a result, the dead skin cells are completely removed, your skin feels soft, smooth, and fresh, the pores are finer, and the skin texture is smoother.
The Enzymatic Skin Peeling is specially developed for all skin types, even sensitive skin, and can be used 2 to 3 times a week.
How to use Cream & Peel
Cleanse the skin with a hannah facial cleanser.
Apply the Enzymatic Skin Peeling thinly with massaging movements.
Remove after a few minutes. Remove the skin with a warm and moist microwave compress if the skin is sensitive.
After cleansing the face, spray the Vitamin Complex or Sparkling Spray over the face.
Then apply the hannah 24-hour Skin Balancing.
Finally, possibly an SPF cream or the Touch of Silk over it.