hannah Facial Protect Duo High Quality SPF15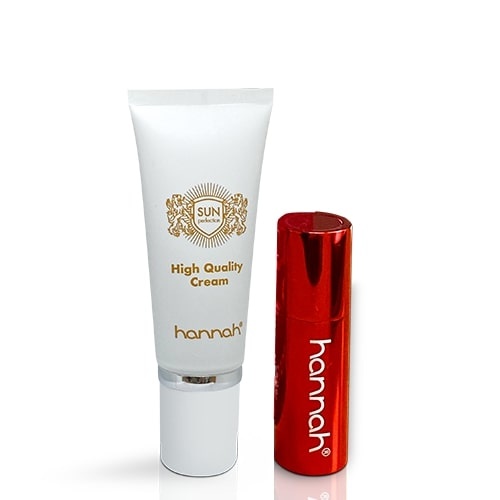 Protect your face with the hannah Facial Protect duo
This duo consists of hannah Lip Touch and one of 3 hannah SPF creams (your choice): High Fade Treatment (SPF10), Quality Cream (SPF 15) or Juvi Protect (SPF30)
hannah Lip Touch
The hannah Lip Touch is a unique, vegetable-based lip balm that gives you full, well-cared-for lips. Your skin heals better if it is kept moist. Thus, hannah lip balm can help prevent any cracks on chapped lips, infections and further irritation. Almost every lip balm today contains SPF protection. This helps protect your lips from the sun's harmful rays and prevents chapped and dry lips. The hannah lip balm contains SPF15 protection, so you're always on the safe side.
hannah High Quality Cream 60ml
hannah High Quality provides sun protection to skin type II-III (SPF15), a light to tinted skin, this type of skin is sensitive to the sun but does not burn easily. Use hannah High Quality Cream as a daily day cream after cleansing and possibly peeling the skin.