hannah Cream & Mask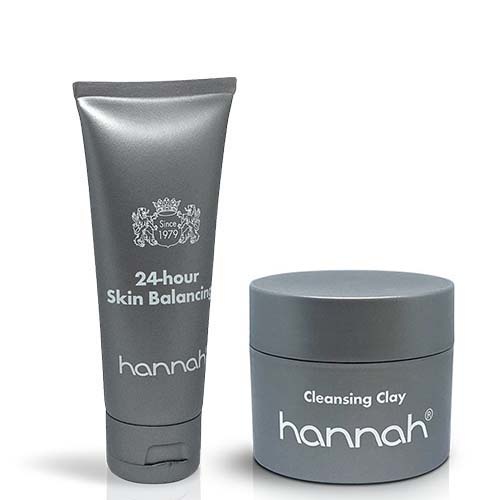 hannah Cream & Mask
This combination of 24-hour Skin Balancing with Cleansing Clay is the perfect combination to deeply cleanse your skin and ensure a radiant, healthy and pure skin. The Cleansing Clay is a deep cleansing facial mask (detox mask) based on 2 exceptional types of clay. The combination of both types of clay ensures that the product effectively removes waste, impurities and excess sebum, so that the skin undergoes a very good cleansing. In addition, the skin is activated because oxygen is released into the skin cells. This intensive skin-improving treatment makes your skin look healthy, radiant, pure and vital again and the 24-hour Skin Balancing is well absorbed by your skin.
The Enzymatic Skin Peeling is suitable for both oily and dry skin. In addition, Hannah Cleansing Clay is extremely suitable for easily irritated or sensitive skin, because of the soothing properties of the product it calms the skin. The composition of ingredients ensures that the product can be used several times a week.
How to use Cream & Mask
Cleanse the skin with a hannah facial cleanser.
Take a generous amount of hannah Clansing Clay and apply it to the face.
Allow the product to act on the skin for a few minutes.
Remove the product preferably with a compress cloth or warm water.
Then apply the hannah 24-hour Skin Balancing.
Finally, if necessary, apply an SPF cream or the Touch of Silk over it to give your heath a perfect complexion.
Product features
Brand:

hannah

Care objective:

Purifies the skin

, Radiant skin

, Reduces sebum production

Gender:

Women

, Men

, Teenager

Packaging:

Duo

Product line:

Basic Line

Skin type:

All Skin types

Suitable for:

Face