hannah Brilliant Touch 30ml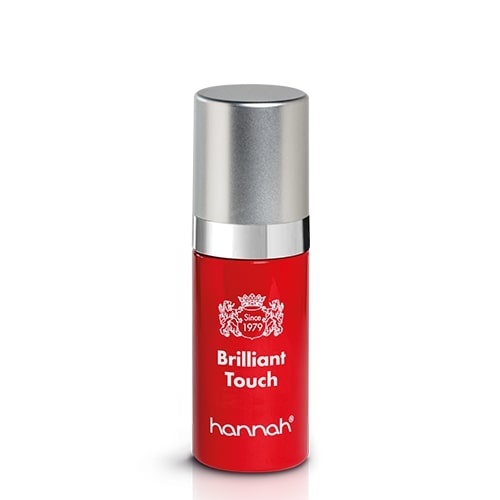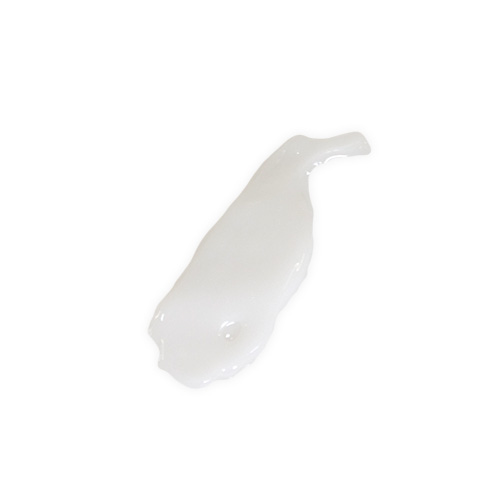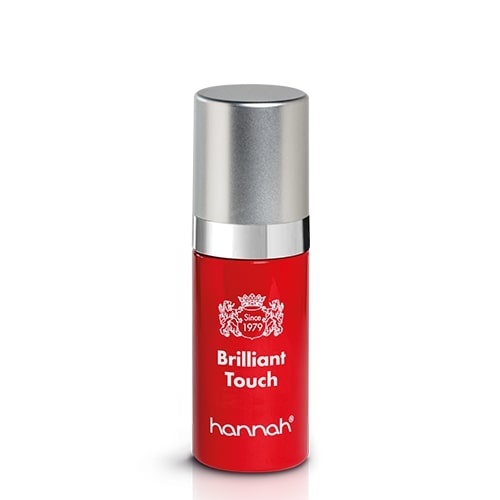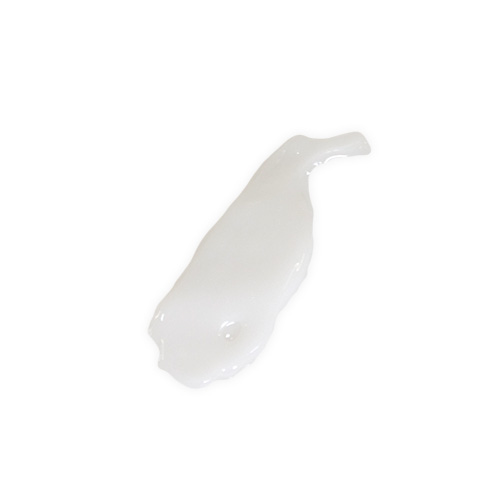 hannah Brilliant Touch
In this day and age, when 'selfies' are the order of the day, everyone wants their picture taken with beautiful and glowing skin. Many use filters or apps on their smartphones or tablets to present themselves as economically as possible. With Brilliant Touch, all these filters and apps are now redundant!
The formula of this unique product contains the white Diamond Core Powder Global Lumière. This luxurious powder provides an instant soft focus effect thanks to its light-reflecting impact. This immediately gives the skin a calm, apparent, and beautifully even appearance.
The unique composition of Brilliant Touch is also intensively skin-improving in the long term for wrinkles and especially skin sagging. This is due to the addition of the high-tech active ingredient Progeline™. This advanced peptide is derived from Elafin, an enzyme-delaying drug that regulates the integrity of the extracellular skin matrix.
Progeline™ consists of 3 high-quality amino acids. This combination effectively reduces the appearance of wrinkles and particularly effectively targets skin sagging/skin sagging (also known as "skin sagging") at the core.
The composition of Brilliant Touch also contains silicone oil, but in a lower concentration than Touch or Silk. This oil can immediately fill in minor imperfections and leave the complexion perfectly even and matted without any traces of grease. The result of this revolutionary product is brilliant in two ways!
Brilliant Touch immediately provides an optically transparent and bright complexion and, in the longer term, a remarkable, intensive, complete remodeling effect of slackened and aging skin!
The benefits of Brilliant Touch:
Fills fine lines
Reduces skin sagging
Brightens the complexion
Powerful skin cell renewal
Fights wrinkles and fine lines
An immediate soft focus effect for an even and smooth skin
How to use Brilliant Touch:
For an immediately smooth and clear complexion for customers who want to look optimally groomed without make-up.
Excellent to combine with products from the Red Line for even more intensive skin regeneration.
Finally, apply the cream to the face, neck and décolleté
Tips:
Ideal as an alternative to make-up and also has a primer function for foundation, which makes make-up even better on the skin
Excellent for men, for example, to use after shaving for smooth skin without irritations
Product features
Brand:

hannah

Care objective:

Radiant skin

, Skin tone improvement

, Smoother skin

Contents:

30 ml

Gender:

Women

, Men

Packaging:

Full Size

Product Type:

Anti aging cream

, Face primer

Product line:

Touch Line

Skin problem:

Skin Aging

Skin type:

Aged skin

, All Skin types

Suitable for:

Face

Texture:

Cream

, Silicone
Reviews
---
Erg fijn product om te gebruiken. Ik merkte met name de 'instant' effecten, dus dat na het aanbrengen mijn huid egaler en matter aanvoelt. Goede basis vormt voor het aanbrengen van foundation met een super fijne textuur. Ik had niet verwacht dat het zo snel zou intrekken. Ik vond het bijna een soort gel, maar dan een ultiem voedende gel. Het trekt namelijk erg snel in en je hebt toch het gevoel dat je huid intens verzorgd wordt.
Dit is werkelijk een fantastisch product, een alleskunner! De Brilliant Touch geeft net dat beetje meer aan je huid, vult je lijntjes op en egaliseert je huid, je hebt maar 1 pompje nodig voor je hele gezicht, en wat zo fijn is je kan het ook heel goed onder je ogen gebruiken! Het voelt heel zacht en comfortabel, ik blijf dit zeker gebruiken in de toekomt!
Dit product is echt een aanrader voor de gevoelige huid met haar rijke structuur, heerlijk subtiele geur. Het is een genot om op mijn huid aan te brengen. Trekt goed in een heeft een matte finishing touch. Ze voelt heerlijk zacht aan en merk dat het een perfecte basis is voor onder mijn make up. Had een wat gevoelige en rode huid maar dit lijkt na een aantal dagen als sneeuw voor de zon verdwenen.
hannah staat voor de kwaliteit van hun producten en dit laat de Brilliant Touch weer zien. Het trekt meteen in, ondanks zijn wat dikkere textuur, en voelt erg fijn en zacht aan op de huid. Zodra het ingetrokken is, voel je een gladde egale huid. De crème doet zijn werk goed!
Mijn favoriete verzorging tijdens de dag!
Brilliant touch is een hele fijne, lichte en matterende creme
Fijne creme, door het diamant poeder krijgt je huid een gave, heldere en egale opvallend heldere én mooie egale uitstraling.
Brilliant. Ik gebruik Hannah Brilliant Touch nu een paar dagen en merk nu al het verschil: mijn huid is rustiger en gladder. Een aanrader!