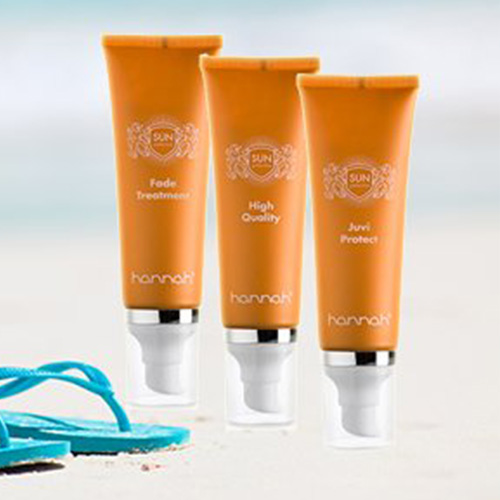 SPF creams as sun protection
The sun is getting more and more impactful once the weather gets better and better. Therefore, sun protection is also becoming increasingly important! It is quite tempting to sit in the sun, but don't forget to protect your skin from the sun with an SPF cream. You probably recognize it, you go out in the sun and then forget to cover yourself up. The result? Red, damaged, and painful skin. No one wants that. But what is the right sun protection? At Het hannahhuis, you will find three different creams from hannah. Fade Treatment, High Quality en Juvi Protect. Each of these creams are day creams that come with an SPF. This is ideal because each of these creams can therefore be used in place of a regular 24-hour cream while at the same time providing protection from harmful influences on the skin. So it's not a sunscreen, but more of a nourishing protective face cream. In other words, two birds with one stone: protection of the skin from the sun and a day cream that offers 24-hour protection. Let the sunshine come again!

Sun protection is different for each skin
To best protect your skin from the sun, it is essential to know your skin type. There are four different skin types divided into numbers from one to four. Each skin type has a different sun intensity number. Skin type 1 has a sun intensity number of 60. This skin burns quickly and does not tan. Think, for example, of people with pale skin with freckles. Then you have skin type 2 with a sun intensity number of 100, where the skin burns fairly quickly and tans slowly. These are the people with light skin and blond hair. Skin type 3 is characterized by a sun strength number of 200, where the skin sometimes burns and tans easily. These people often have light-toned skin and dark eyes. With skin type 4, you never burn and tan very quickly. Here the sun's strength number is as high as 300. But how do you calculate how much sun exposure you can enjoy without sun protection? Here's how! Choose the sun strength number that suits your skin and divide it by the sun strength of the day. This tells you exactly how long you can sit in the sun unprotected.

Want to know more about proper sun protection?
We can imagine that you might still want some additional information about sun protection. The protection of the skin from the sun is very important, but also entirely dependent on the sensitivity of your skin and the type of skin. Our skin specialists can advise you on which product suits you best.