hannah Skin care set dry skin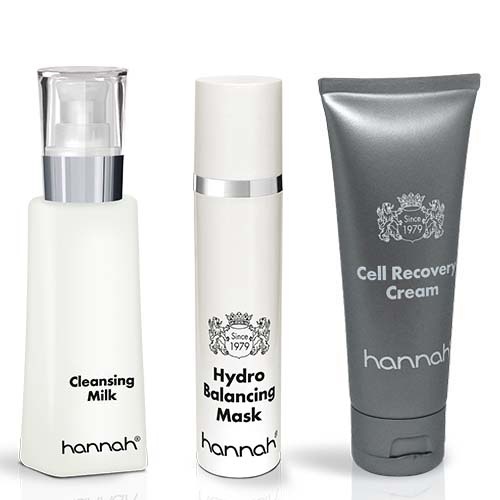 hannah Skincare set dry skin
contains the products you need for your daily skin care routine.
Content
The hannah Skin care set dry skin contains the following products:
hannah Cleansing Milk 200ml
hannah Cell Recovery Cream 65ml
hannah Hydro Balancing Mask 45ml (wax hannah Hydro Mask)
The hannah Cleansing Milk is suitable for the most sensitive skin and cleans the skin extremely gently but intensively. This cleaning is pH (acidity) skin neutral so that the natural protective mantle of the skin is not disturbed, so that it does not dry out unnecessarily. hannah Cleansing Milk has a hydrophilic (water-soluble) composition that makes it easy to mix with water and easy to rinse off. The result is silky smooth and perfectly cleansed skin!
The hannah Cell Recovery Cream significantly improves the fat and moisture balance in the skin. The betaine creates a fat film on the skin, reducing moisture loss and the oils ensure a natural penetration of the skin's own fats. This brings the natural ratio between moisture and fat in the skin back into balance. With this rich, ointment-like cream, the mature, dehydrated skin in particular receives a vital basis again, which significantly delays skin aging.
Hydro Balancing Mask gives your skin a true injection of moisture, so that it hydrates intensively and contributes to skin renewal. The skin feels soft, supple and well hydrated after use.
This is how you use the hannah Skincare Set
Step 1: cleanse your face with the hannah Cleansing Milk. You can use this product every day, both in the morning and in the evening. Wet your face with lukewarm/warm water and massage in the hannah Cleansing Milk. Preferably remove the Cleansing Milk with a moist and warm microwave compress. This keeps the horny layer of your skin intact. The result is silky soft, comfortable to the touch and perfectly cleansed skin that is free of make-up, excess sebum and other impurities. It is better to use the Cleansing Oil with waterproof (eye) make-up.
Step 2: Apply hannah Hydro Balancing Mask thinly and leave it on for 5-10 minutes. The mask can be used 2 to 3 times a week. You can choose to remove the mask with lukewarm/warm water, but you can also leave the mask on and apply the cream over it. The moisture retention capacity increases, the structure of the pores is visibly refined and your skin is soothed.
Step 3: nourish your face with the hannah Cell Recovery Cream. Apply to cleansed skin, massage in and leave on for 20 minutes. Remove the remnants with a warm microwave compress. In addition, you can then apply the Clear Sparkling Spray. Tip: this cream is very suitable during winter and water sports as an intensive boost.
Product features
Brand:

hannah

Care objective:

Improve hydration

, Reduction of wrinkles & fine lines

, Smooth skin

Gender:

Women

, Men

, Teenager

Packaging:

Skincare set

Skin type:

Dry skin

Suitable for:

Face