hannah SebuPure Sample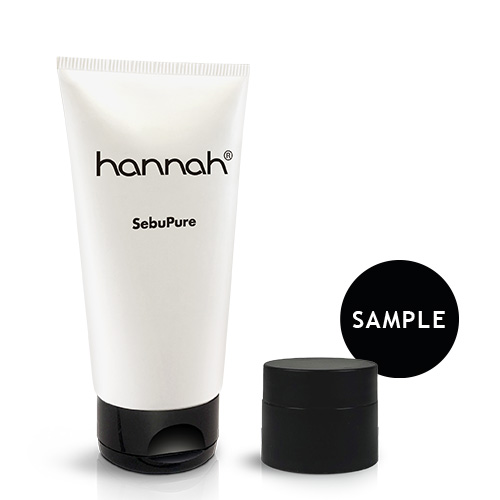 hannah SebuPure
The formula of hannah SebuPure is specially designed for oily skin or skin with acne. The main purpose of this cream is to regulate sebum production and reduce redness. Acne and oily skin, due to the unique composition of ingredients, are effectively addressed and reduced, allowing the skin to recover faster and better.
The composition of hannah SebuPure contains 100% organic, vegan Abyssinian oil. This one of the best kept secrets in skin improvement worldwide. This particular ingredient is known for its powerful anti-inflammatory properties, which is mainly due to the naturally contained component of Erucic Acid. Abyssinian oil is also rich in omega 3 and 6 fatty acids and minerals. In addition, hannah Sebupure is an effective moisturizer that combats the first signs of aging and provides natural protection for the skin. It absorbs quickly into the skin, so the pores are not clogged, making it ideal for blemished or oily skin with acne symptoms.
The formula of hannah SebuPure, in addition to Lactic Acid, Lactobionic Acid, and the active ingredient Sebuless™ (also present in the hannah Prepare Potion), also contains the active ingredient Ac.net™. This is a combination of oleanolic acid and nordihydroguaiaretic acid, among others, in gel form. It is an advanced active ingredient that reduces redness in the skin, prevents bacterial growth, and regulates sebum production. hannah SebuPure also has a mild keratolytic effect, thereby improving skin texture. The addition of Squalane helps the skin retain long-term moisture and keeps the skin supple and soft. Vitamins B8 and E maintain the skin healthily and promote intensive skin repair. SebuPure forms the perfect synergy with the new hannah Prepare Potion for acne skin and oily(er) skin conditions.
The benefits of SebuPure:
Reduces acne and oily skin.
Anti-inflammatory
Reduces redness
Counteracts bacterial growth
Promotes natural skin repair
How to use SebuPure:
After carefully cleansing the skin and possibly using one of the peelings, apply the hannah Vitamin Complex or the hannah Sparkling Spray. Then apply SebuPure to the face, neck, and décolleté. Then use an appropriate Sun Perfection cream during the day. Finally, a product from the Touch family will be the finishing touch.