hannah Peel & Remodel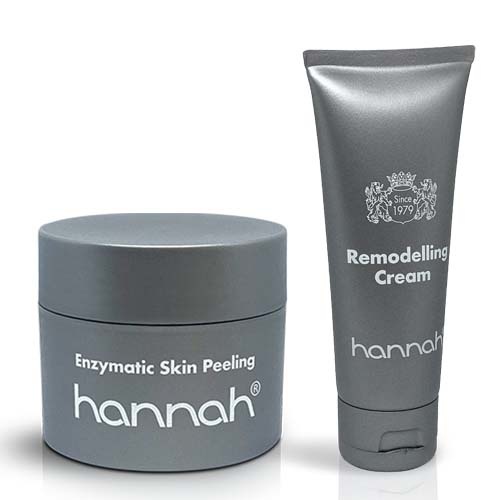 hannah Peel & Remodel Set
With this Peel & Remodel Set you have everything you need to peel & restore your skin. This set includes:
Enzymatic Skin Peeling 65ml
Remodeling Cream 65ml
Enzymatic Skin Peeling
Removes dead skin cells from the stratum corneum leaving your skin feeling instantly soft, smooth and refreshed. The pores are finer and the skin texture smoother. Use this peeling 2 to 3 times a week for optimal effect.
Remodeling Cream
has been specially developed for use on wrinkles, scars and burns and, on the advice of the skin coach, is also very suitable for use on rosacea and eczema. The extremely high percentage of 12% natural vitamin E ensures the recovery of damaged skin and reduces wrinkles and fine lines. When you use Remodelling Cream in combination with peeling, stimulating, moisturizing and nourishing hannah products, skin problems will fade away significantly faster.
Product features
Brand:

hannah

Care objective:

Purifies the skin

, Recovery of the skin

, Reduction of coarse pores

, Reduction of wrinkles & fine lines

, Smooth skin

Gender:

Women

, Men

Packaging:

Duo

Suitable for:

Face