hannah Cream & Shine SPF30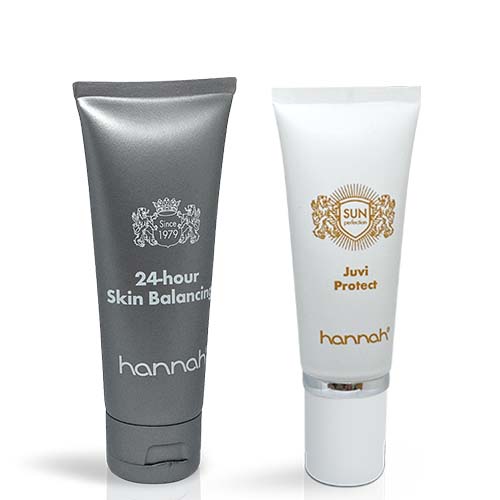 hannah Cream & Shine SPF30
This combination of 24-hour Skin Balancing with Juvi Protect SPF30 nourishes and protects the skin from the harmful effects of the sun. The nourishing properties of 24-hour Skin Balancing in combination with the protective properties of Juvi Protect (SPF30) ensure that the skin remains in optimal condition during the summer days.
How to use Cream & Shine SPF30
Cleanse the skin with a hannah facial cleanser.
After cleansing the face, spray the vitamin complex over the face.
Then apply the hannah 24-hour Skin Balancing.
Apply the Juvi Protect SPF30 over this cream.
As a finishing touch, the Touch of Silk can be applied.
If you expose your skin to sunlight for a longer period of time, it is advisable to use a sun protection product that is suitable for your skin at least every 2 hours.
Product features
Brand:

hannah

Care objective:

Reduction of UV damage

Gender:

Women

, Men

Packaging:

Skincare set

, Duo

Protection Factor:

SPF 30

Suitable for:

Face