hannah Cream & Improve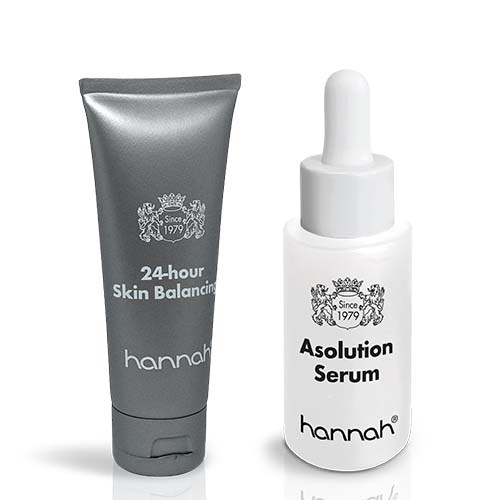 hannah Cream & Improve
This combination of hannah 24-hour Skin Balancing with the hannah Asolution Serum is the perfect combination to even out and firm your skin.
The Asolution Serum is an advanced, mild and effective alternative to Retinol that significantly improves the skin in multiple ways. This innovative serum is specially designed to even out the skin and actually improve firmness. This serum provides extra vitality, an even complexion, and visible regeneration for aging skin. This serum ensures that large pores and acne are effectively addressed for blemished skin with a flawless, fresh, and clear skin.
Combining an excellent nourishing cream such as the 24-hour Skin Balancing with the Asolution Serum significantly improves your skin in several ways. Pigments and skin discolorations are reduced, and skin clarity is improved for noticeably healthier and more even skin.
How to use Cream & Improve
Cleanse the skin with a hannah facial cleanser.
After cleansing the face, preferably apply a hannah facial lotion
Then apply a few drops of Asolution Serum to the face, neck, and décolleté. Note: the Asolution Serum is not suitable for use around the eyes. For that, we recommend hannah 4YOUth. This product relaxes the skin and fills in fine lines and wrinkles.
As a final step, apply the hannah 24-hour Skin Balancing.
Tip: Would you like to give your skin another finishing touch? Then apply the hannah Brilliant Touch after the cream. The Asolution Serum is the ultimate synergistic complement to the Brilliant Touch. Both products ensure a bright complexion and a beautiful even radiance.
Asolution Serum is a therapeutic product; for usage instructions, the skin coach will reach out to you after purchase.
Product features
Brand:

hannah

Care objective:

Purifies the skin

, Reduction of coarse pores

, Skin Firming

, Skin tone improvement

, Smoother skin

Gender:

Women

, Men

Packaging:

Duo

Skin problem:

Acne

, Pigmentation

Skin type:

Aged skin

, Blemished skin

, Dehydrated skin

, Dry skin

, Normal skin

, Oily skin

Suitable for:

Face