hannah Cream & Bright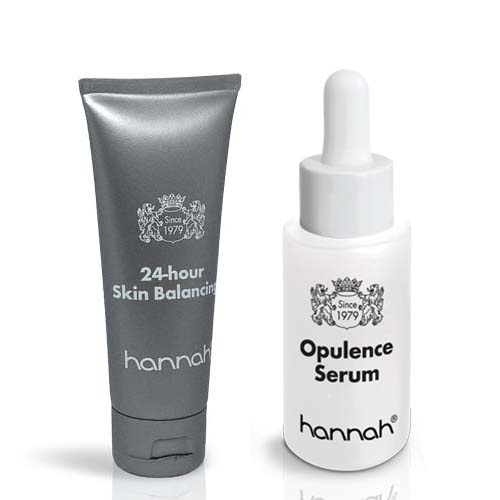 24-hour Skin Balancing & Opulence Serum for even and radiant skin
This 24-hour Skin Balancing with Opulence Serum combination is the perfect combination to make your skin shine. Opulence Serum is a serum that improves the skin in terms of evenness, clarity, and firmness, so camouflaging is no longer necessary. In addition, in the places where skin aging first manifests itself, such as around the eyes, neck, décolleté, and hands, the Opulence Serum provides extra vitality, an even complexion, and visible regeneration.
The combination of a good nourishing cream, such as the 24-hour Skin Balancing with Opulence Serum, gives the skin a beautiful bright appearance. Opulence Serum also tackles excessive pigmentation and discoloration deep down.
How to use Cream & Bright
Cleanse the skin with a hannah facial cleanser
After cleansing the face, preferably apply a facial lotion
Then apply a few drops of Opulence Serum to the face, neck and décolleté
Then apply the hannah 24-hour Skin Balancing.
And possibly apply the Touch of Silk as a finishing touch.
Opulence Serum is a therapeutic product; the skin coach will contact you after purchase for instructions on how to use it.
Product features
Gender

Women

, Men

Skin type

Aged skin

, Blemished skin

, Dehydrated skin

, Dry skin

, Normal skin

, Oily skin

, Sensitive skin

Skin problem

Acne

, Pigmentation

Care objective

Radiant skin

, Reduction of pigmentation and age spots

, Skin Firming

, Skin tone improvement

, Smoother skin

Suitable for

Face

Packaging

Duo

Brand

hannah