hannah BeYOUty Serum Sample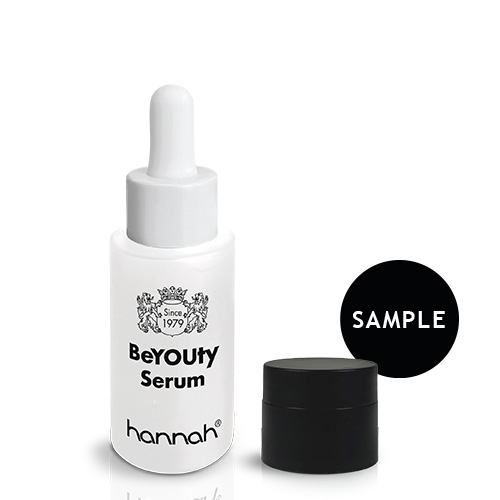 hannah BeYOUty Serum
This highly concentrated serum has been specially developed for every conceivable skin tone to improve impurities, skin irritations after wearing mouth masks, and even sensitive skin types. The composition ensures that the skin immediately smoothes, soothes, and repairs where necessary. The unique mix of ingredients ensures that you can use this serum for impure skin, (blotchy) redness, slow skin recovery, imperfections, and irritations. The combination of ingredients such as Ferulic Acid, and Niacinamide makes this serum widely applicable and suitable for every skin tone. Impurities and also consequential damage after wearing mouth masks will visibly diminish. The skin is powerfully restored and has a positive effect on the slowing down of the skin aging process.
Thanks to the powerful antioxidant effect, the skin's resistance to harmful external influences is improved, and the natural skin barrier is strengthened. In addition, this serum has a regulating effect on pigmentation spots and pigment disturbances caused by trauma. It reduces already formed hyperpigmentations and skin discolorations and also prevents their occurrence. This true multitasker takes skin improvement to a whole new level and tackles annoying skin problems at the core.
The benefits of the BeYOUty serum:
Smoothes the skin image optimally
Reduces impurities
Reduces redness
Reduces skin irritation after wearing face masks
Promotes natural skin regeneration
Strengthens resilience
Soothes the skin
Reduces moisture loss
Suitable for every skin tone
Even suitable for sensitive skin
This is how you use the BeYOUty serum:
The BeYOUty Serum is the ultimate synergistic addition to the Prepare Potion, as both products provide pure skin with radiance. The serum is exceptionally rich and economical in use because of its concentrated composition. After carefully cleansing the skin and using the Prepare Potion, apply a few drops of serum to the face, neck, and décolleté. It can be used in the morning and evening and then apply a restorative cream.