hannah Touch of Silk Sample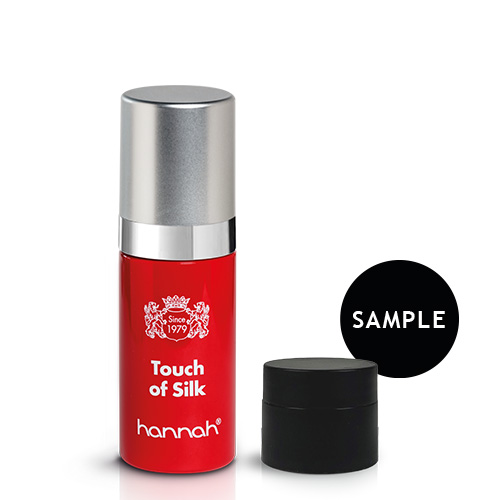 hannah Touch of Silk
Touch of Silk is a multifunctional, instant complexion enhancer based on silky soft silicone, which immediately evens out and mattifies the complexion. A perfectly flawless complexion without imperfections and with an even and beautiful matte finish is high on the wish list of many women! However, not everyone wants to use makeup daily or has the time to do so. Touch of Silk has been specially developed for this. The silky formula has a base of high-quality silicone oil and can immediately fill small imperfections and leave the complexion perfectly even and beautifully matted. This makes this Touch of Silk an instant, daily complexion improver!

Silicones are widely used to make scars heal more beautifully because they can soften, flatten and visibly and tangibly smoothen the scar tissue. In addition to a radiant complexion, Touch of Silk also improves the skin's volume visibly and palpably. The rich mix of high-quality ingredients has a positive effect on the recovery of troubled skin, but also damaged skin. In addition, it stimulates connective tissue production, promotes an optimal immune system of the skin against harmful external influences and softens the walls of the fine capillaries.
The benefits of Touch of Silk:
Stimulating
Smoothing and mattifying
Soothing
Complexion brightening and complexion brightening
Ideal for scars or skin damage (e.g. eczema)
Very suitable as a primer
How to use Touch of Silk:
After carefully cleaning the skin, apply the cream as the last cream in the morning to the face, neck and décolleté for an immediately even and matte complexion, so always over a nourishing cream, can also be over the Sun Perfection
The cream is made in such a way that the Sun Perfection is not hindered.
The Touch of Silk can be combined well with products from the anti-ageing line for an even more intensive regeneration.
Ideal as an alternative to make-up, but also has a primer function for foundation, which makes make-up even better
This product can be used on minor burns, abrasions and etched skin.