hannah Scrub Plus Sample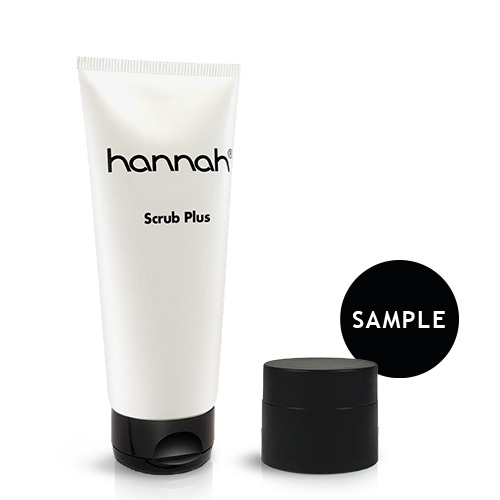 hannah Scrub Plus
Scrub Plus is a "body peel" that removes dead skin cells from the skin. Dead skin cells on the skin can suffocate your skin, causing less activity and blood flow in the skin. This causes the skin to look sallow and gray.
hannah Scrub Plus is a mechanical peel that addresses the breakdown process due to the granules and the added vitamin B3, and blood flow to the skin is stimulated.
The benefits of Scrub Plus:
Peeling
Skin cell renewing
Absorbing (for excess sebum, dead skin cells and dirt particles)
Inte,nsively stimulating circulation
Hydrating
How to use Scrub Plus:
Before getting into the shower, apply the Scrub Plus with firm, circular motions.
Then rinse the scrub in the battery using the hannah Shower Treatment or wipe off the scrub with a dry towel.
Intensive heat and redness are now observed.
After showering, nourish your skin intensively with Body Treatment: cream or oil.
Scrub Plus is also suitable for strongly cornified, coarse skin regions such as the upper lip, elbows, and knees.
This is a therapeutic product, which requires an explanation from the skin coach.