hannah Brilliant Touch Sample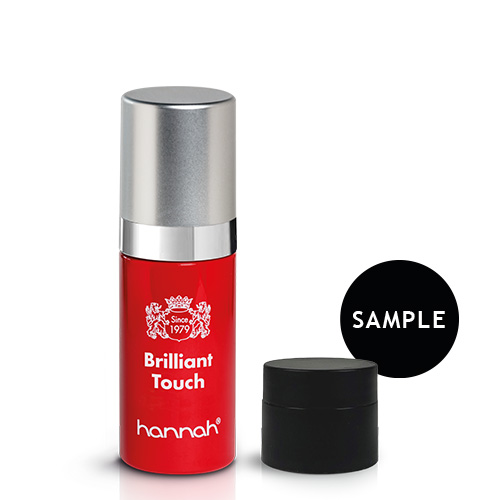 hannah Brilliant Touch
In this day and age, when 'selfies' are the order of the day, everyone wants their picture taken with beautiful and glowing skin. Many use filters or apps on their smartphones or tablets to present themselves as economically as possible. With Brilliant Touch, all these filters and apps are now redundant!
The formula of this unique product contains the white Diamond Core Powder Global Lumière. This luxurious powder provides an instant soft focus effect thanks to its light-reflecting impact. This immediately gives the skin a calm, apparent, and beautifully even appearance.
The unique composition of Brilliant Touch is also intensively skin-improving in the long term for wrinkles and especially skin sagging. This is due to the addition of the high-tech active ingredient Progeline™. This advanced peptide is derived from Elafin, an enzyme-delaying drug that regulates the integrity of the extracellular skin matrix.
Progeline™ consists of 3 high-quality amino acids. This combination effectively reduces the appearance of wrinkles and particularly effectively targets skin sagging/skin sagging (also known as "skin sagging") at the core.
The composition of Brilliant Touch also contains silicone oil, but in a lower concentration than Touch or Silk. This oil can immediately fill in minor imperfections and leave the complexion perfectly even and matted without any traces of grease. The result of this revolutionary product is brilliant in two ways!
Brilliant Touch immediately provides an optically transparent and bright complexion and, in the longer term, a remarkable, intensive, complete remodeling effect of slackened and aging skin!
The benefits of Brilliant Touch:
Fills fine lines
Reduces skin sagging
Brightens the complexion
Powerful skin cell renewal
Fights wrinkles and fine lines
An immediate soft focus effect for an even and smooth skin
How to use Brilliant Touch:
For an immediately smooth and clear complexion for customers who want to look optimally groomed without make-up.
Excellent to combine with products from the Red Line for even more intensive skin regeneration.
Finally, apply the cream to the face, neck and décolleté
Tips:
Ideal as an alternative to make-up and also has a primer function for foundation, which makes make-up even better on the skin
Excellent for men, for example, to use after shaving for smooth skin without irritations