hannah Bath & Body set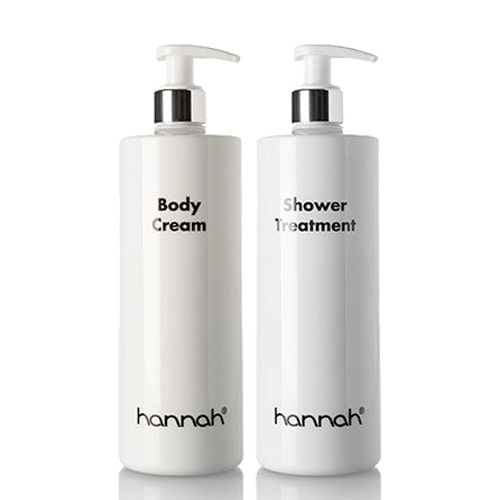 hannah Bath & Body set
The Bath & Body set from hannah contains two skincare products with which you can also give your body the care it deserves.
Body Cream
This product from the Bath & Body set has a high-quality, rich base of macadamia oil. This cream is rich in antioxidants and has soothing and softening properties for the skin. The added caffeine visibly firms the skin and acts as a robust and hydrating antioxidant. The result is smooth, firm, and resilient body skin.
How to use the Body Cream:
After showering, apply hannah Body Cream all over the body and firmly massage in.
Shower treatment
This product from the Bath & Body set is a rich, intensively nourishing, soothing shower oil based on soybean oil with a wonbeautifulesh scent and easy-to-use. Where needed, this rich formula restores the skin's lipid layer and is even perfect for very dry or sensitive skin.
The addition of calendula stabilizes the pH level and has a skin-soothing effect. This active ingredient also has cleansing, anti-inflammatory, and anti-fungal properties. This significantly increases the skin's resistance to harmful external influences. Additionally, antioxidant vitamins C and E ensure smooth, beautiful, healthy skin and intensive regeneration. The result? A freshly scented, perfectly clean, and well-hydrated body skin.
How to use the Shower Treatment:
Take a small amount (the size of a euro) in the palm of your hand, apply it to the skin and mix it with water. The formula binds with the water and becomes a thin white substance. Then remove it in the shower.
Product features
Brand:

hannah

Care objective:

Calmed skin

, Improve hydration

, Purifies the skin

, Skin Firming

, Smooth skin

Gender:

Women

, Men

, Teenager

Packaging:

Skincare set

, Gift set

, Duo

Product Type:

Body cream

, Shower oil

Product line:

Body Line

Skin type:

All Skin types

, Dry skin

, Sensitive skin

Suitable for:

Body