hannah Active Mask Sample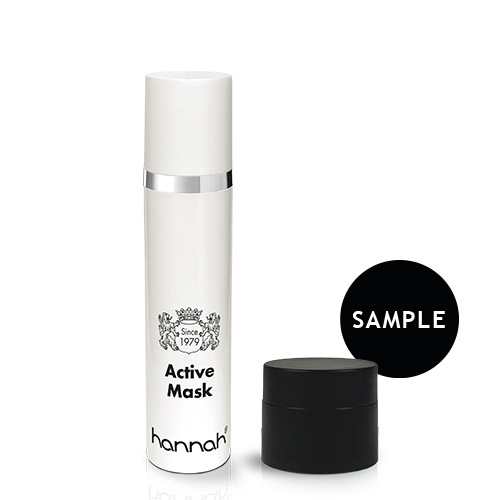 hannah Active Mask
purifies the skin and stimulates blood circulation. Due to the increased blood flow, a better supply of nutrients and oxygen is caused, which stimulates the transport of waste. The supply of the subsequent active ingredients is also stimulated. This mask is suitable for all skin conditions. In case of sensitive skin conditions, apply the hannah Skin Conditioner or the hannah Skin Elixir under the hannah Active Mask.
The benefits of Active Mask:
Recovery-promoting
purifying
Promotes blood circulation
degreasing
Absorption enhancing
Skin renewing
How to use Active Mask:
After removing the cleansing and peeling using warm microwave compresses, hannah Active Mask should be shaken well to form a greyish mask emulsion.
Preferably apply hannah Active Mask with a large cotton swab or mask brush.
Then let it dry.
After the drying process, generously apply the hannah Cleansing Milk.
hannah Cleansing Milk ensures that the hannah Active Mask is released from the skin.
Then wipe it all off with a microwave compress.
If the blood flow in the skin is not sufficient after this, hannah Cell-Active can also be used.
Apply the hannah Active Lotion every evening after use.
When the skin has improved, the use can be reduced.
This is a therapeutic product, which requires an explanation from the skin coach.