hannah Acne Power Duo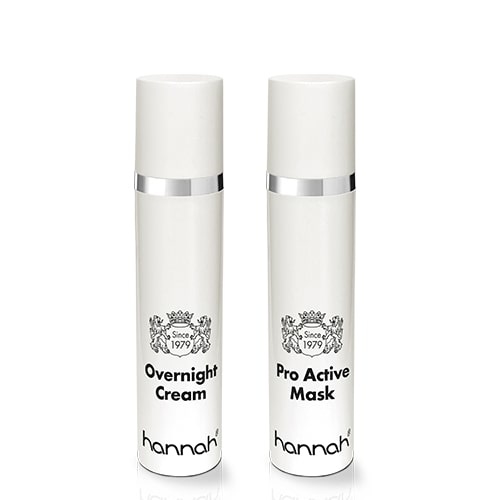 hannah Acne Power Duo
The Pro Active Mask and the Overnight Cream have been specially developed for impure and troubled skin. In particular for people who have developed impurities after the age of 21. Both products contain innovative ingredients such as the micro-organism Lactobacillus which acts as a probiotic for the skin. It has a demonstrated, proven effect as an antifungal and antimicrobial agent on the skin. This makes these products great for treating pimples, redness and even fragile skin. The added Abbessinian oil is not only known for its powerful purifying properties, but is also an effective moisturizer and provides natural protection for the skin.
The Pro Active Mask improves oily, blemished and troubled skin conditions and acts as an intensive cleansing mask. It deeply purifies the skin, reduces redness and prevents clogging of pores.
The Overnight Cream counteracts bacterial growth, provides the skin with the right nutrients to promote recovery, ensures proper moisture balance and helps reduce and even prevent shiny skin.
The mask and the cream form the perfect synergetic duo, as the active ingredients are so well attuned that they greatly enhance each other's effect. However, use them separately from each other and not during the same routine, as this may be too intensive for the skin due to the very powerful action of both products.
For example:
2 days a week the Pro Active Mask
5 days per week the Overnight Cream
Use Pro Active Mask:
After carefully cleansing the skin and using the Prepare Potion, depending on the skin condition, apply the Pro Active Mask twice a week. This should be shaken well before use. Leave the mask on for 5 to 10 minutes and then remove with a warm microwave compress. The mask can be experienced as irritating. Then apply the SebuPure to provide the skin with proper nutrition.
Use Overnight Cream:
After carefully cleansing the skin and using the Prepare Potion, apply the Overnight Cream and massage it in until it is completely absorbed by the skin. During the day, use the SebuPure as a nourishing cream. This will enhance and accelerate the results.